Deck Installation
in Virginia Beach, Virginia
Trust the experienced professionals from Everett's Construction based in Virginia Beach, Virginia, for fast and efficient deck installation services.
An Affordable Option
A wooden deck not only adds instant curb appeal to your home; as an added bonus, wooden decks are affordable and give you additional space to unwind and relax.
Long-Lasting Composite
While wooden decks are affordable, long-lasting composite decks are popular options. These durable decks are made up of a wood and vinyl mixture and are the leading choice for deck installations.
Maintenance-Free Railings
Add style, beauty, and extra safety to your porch with maintenance-free, composite vinyl porch railings. As an added bonus, our railings come with a lifetime warranty, and are available in pressure-treated wood. Porch railings are required if your porch has stairs.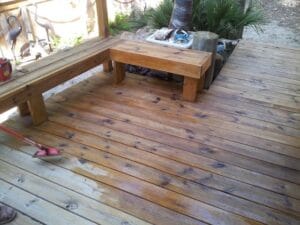 Contact us today in Virginia Beach, Virginia, to request an estimate for our expert deck installation services to enhance the beauty of your home.